Hawaii
The Island of Aloha
Molokai
Since I was halfway to Hawaii in California, and I have a friend living there, I figured I might as well make the trip out there! My good friend, Nick and his fiance Shanti live on Molokai. They invited me out to come stay with them and explore Hawaii. I was lucky enough to be able to leave my car at my Uncles' house in San Jose and make the trip out. I flew from San Fransisco to Maui, and then got a short hopper flight over to Molokai. Nick picked me up from the airport and we headed straight to Rock Point beach to catch some waves! We were lucky enough to get chest to head high sets and surfed for a few hours. What a great way to start the adventure! We headed back to their house after surfing and met up with Shanti and cooked a delicious dinner.
The next day, Nick and I explored some of the island. We went to Make Horse beach (pronounced Mock-eh) where we met and hungout with some locals. They were super friendly and offered us beer and pineapple! We drank some beers, ate some pineapple, and got to do a little cliff jumping and snorkling. The locals also showed us how you can eat raw Opihi, which is a type of muscle that attaches to rocks in the water. You can pry them off and eat them raw. They don't taste like much, but are a little salty and chewy. The island of Molokai has a special feel to it. It reminds me of the Bahamian island, Eleuthera that I used to go to often. Molokai is very rural and underdeveloped, similar to Eleuthera. Locals refer to Molokai as the last truly Hawaiian island since it's not overun by tourism and development. It is defintely a different type of lifestyle living there, but it's truely an incredible place! Thanks, Nick and Shanti for letting me stay with you guys!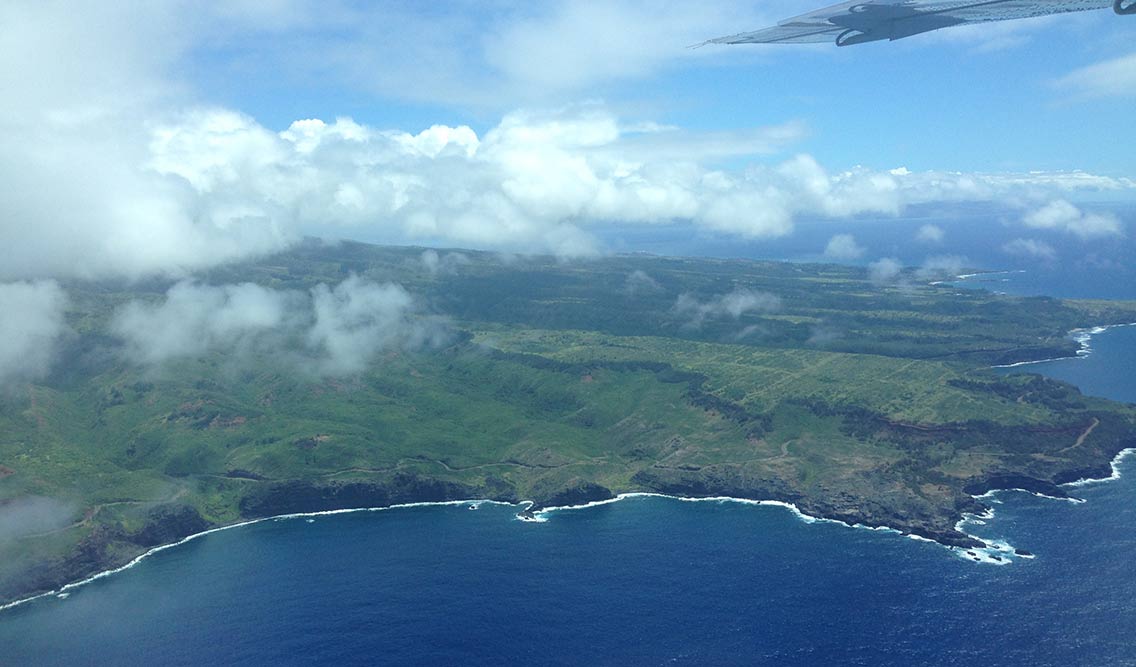 Maui
The next couple of days we explored, did a short hike to a beach where we hungout for a bit, and searched for some waves, unfortunately without much luck. On Sunday we booked another short hopper flight over to Maui where we spent the rest of the week. Nick and Shanti's friend Jade was friendly enough to let us crash at her place for a few days. She had a sweet little studio appartment on a very cool property with a couple other units that had an incredible view, awesome pool and hotub, and a variety of fruit trees including passion fruit, dragon fruit, lemons, and papaya. After we arrived in Maui, we took the drive out on the road to Hana to explore some waterfalls and beautiful beaches! Our first attempt was cut short due to a landslide which didn't allow us to make it all the way to our destination. So we hit some cool waterfalls, and got to swim for a bit on our way back. We also went to a lookout over Kaluapapa peninsula. In 1866 the Hawaiian legislature passed a law to quaratine people with leprosy. At the time there was very little knowledge about the disease, so they were sent there so they would not infect others. The Kaluapapa peninsula is located just next to some of the highest sea cliffs in the world!
The next day we were able to make it much deeper into Hana, along the curvy and winding road that goes on for about 50 miles. It's a beautiful drive full of switchbacks and narrow one lane bridges, beautiful waterfalls and swimming holes. We went to the Lava tubes, which are long underground tunnels formed by flowing lava. This was very cool, and reminded me of being in an underground cavern. I only managed to get one good shot where you can see inside the lava tubes and Nick put on his silly face!
We were able to score some awesome waves at Koki Beach. The waves were chest to headhigh with overhead sets, and crystal clear water. It was an awesome day of surfing. As we were running out of daylight, we drove just a couple more miles to an amazing swimming hole called Venus Pools. In order to get to Venus Pools, we hopped a little fence into a large field of grazing cows. As we walked through, the cows stopped mid graze and stared at us with grass hanging out of their mouths; they didn't seem too bothered by our presence. Following the narrow dirt trail, it led us down the hill to the swimming hole. The hole is about 150 feet across with a handful of cliffs to jump into the water, offering a variety of heights to jump from. We hungout for about 20 minutes, and did a couple jumps before we ran out of daylight and headed back into Haiku.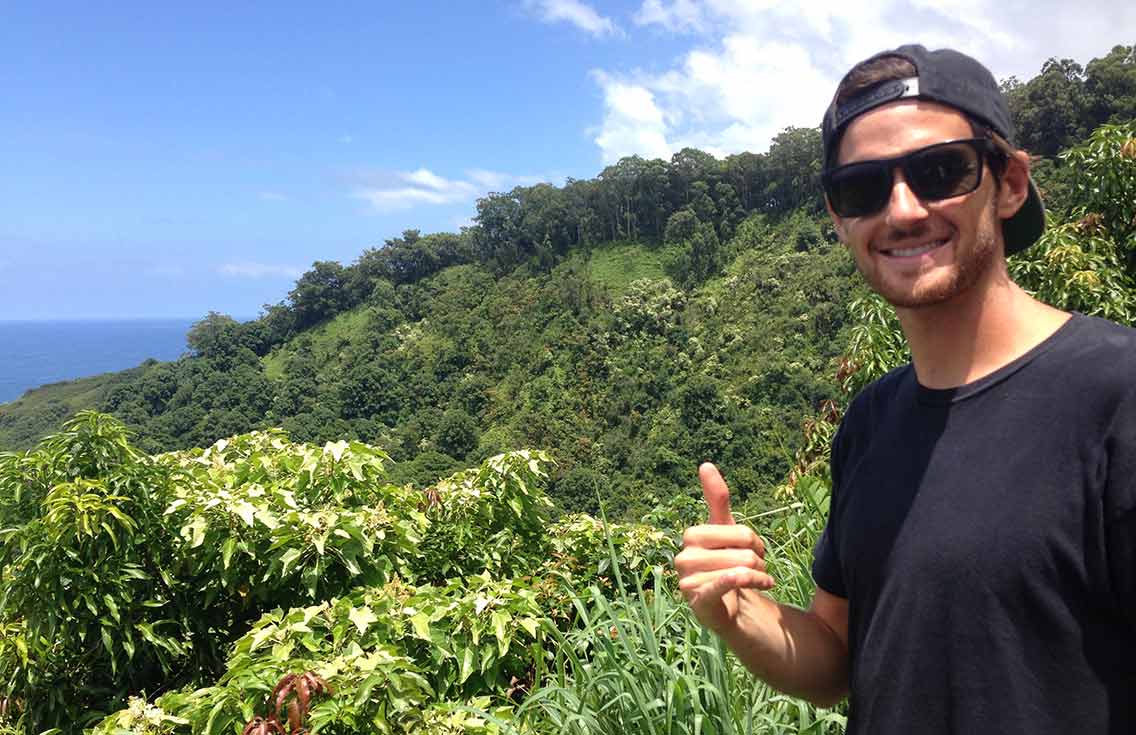 Shanti flew into Maui on Tuesday since she had to work. So Nick and I picked her up from the airport, and headed back out on the road to Hana. On our way, we stopped at Turtle Bay which has tons of sea turtles swimming around. Shanti and I snorkled around for a bit while Nick finished up working. We got to swim with a sea turtle and swim through a little passage in an underwater rock; so cool! We then headed back into Hana and went to Koki beach, in hopes of getting some more waves. The water was the polar opposite of the day before; it was dark and murky. It was strange to see such a drastic difference in the water clarity from one day to the next. The waves were not as good as the day before either, but we surfed for an hour or so and continued back to Venus Pools. We hungout at Venus Pools for a few hours, jumping off cliffs doing flips, and conquering our fears! Nick did his first backflip and immediately got the hang of it. Shanti jumped off a really high cliff, and I attempted to do a gainer off one of the cliffs... attempted. We all had a great time!
Later that night, we went back to Jade's place to meet up with her and a couple of her friends. We hungout by the pool and did some slack-lining, and took turns doing handstands. We also ate some passion and dragon fruit and I got to try some amazing lilikoi butter. It&resquo;s a form a passion fruit butter that is absolutely amazing. It goes well with toast, yogurt, fruit, by the spoonful and just about anything you could think of!
The last day, Nick, Shanti, Jade and I went out for breakfast, and then headed over to Hookipa Beach to hang for a bit before I had to head to the airport. We were able to see some sea turtles hanging out on shore which was really cool. I was sad for such an awesome trip to come to an end. I had such an amazing time in Hawaii; everyone we met was super friendly and welcoming! Both islands had completely different vibes and atmosphere; it was nice getting to experience both of them. There is still so much do, I guess I'll have to make another trip sometime! Big thanks to Nick, Shanti and Jade for welcoming me, hosting me and showing me a great time! I can't wait to come back!