Arizona
The Grand Canyon State
Tucson
Tucson was my first stop in Arizona. Despite the heat, it was a very fun city. It has lots of cool bars and breweries. I was only there for one night, but was lucky enough to have a friend / personal tour guide! Thanks Carley! After hitting a couple bars the night of my arrival, we headed up to Mount Lemmon the next day to get out of the heat. Mount Lemmon is the highest point in the Santa Catalina Mountain Range. With the peak at about 9,000 feet, it was about 20 degrees cooler than being down in the desert in Tucson. We took a little hike and caught some great views of the city. It was cool seeing the foliage and vegetation change as you climb the mountain. It starts out as low desert plants and cacti, then climbs into a sea of giant Saguaros. After the Saguaros, you get the high desert trees and vegetation, which provide lots of shade.
Florence
After leaving Tucson, I went to Florence to stay with a longtime friend, Angela, who's known me my whole life! Florence is a small town in the desert that has eight prisons. This adds an interesting dynamic to the town. A majority of the population in Florence work for the prisons. I went to the Pinal County Historical Society & Museum while I was there. The museum was very cool! One of the things I really liked there was a furniture set made from the Saguaro Cactus wood. The museum also had a feature on the infamous gunfight between Sheriff Pete Gabriel and his deputy Joe Phy. After personal differences the two became bitter and had a confrontation on May 31, 1888 in the Tunnel Saloon. The argument escalated to a gunfight. Both suffered gunshots and Phy was killed during the shootout.
I also got to see a Crested Saguaro which is a saguaro with rare genetic mutation. Biologists disagree as to why some saguaros grow in such an unusual way. Some speculate it is genetic mutation, where others speculate it is caused by being struck by lightening or freeze damage. Either way they produce these funky fan-like forms which are really cool looking. They are pretty rare so it was cool to get to see one! Unfortunately I did not get any photos with Angela, or of a crested Saguaro.
Prescott & Jerome
On my way to Sedona, I was recommended to drive through Prescott and Jerome which was a great idea and a fun drive. Prescott is a cool little town which was once the captial of Arizona. I didnt stay long but stopped at Lynx Lake to have lunch by the water. After Prescott I continued north to the town of Jerome. Jerome came into existance in the late 19th century with the discovery of two major ore bodies. The town grew due to the mining jobs. Production at the mines fluctuated for various reasons, but boomed during World War I. Production fell and rose a few times and then dwindled down to less than 100 residents after the ore deposits exhausted. An attempt to save the town came into effect and the focus on tourism and retail sales revived the town. There are now a few bars, art galleries, coffee houses, restaurants and wineries. The architecture in Jerome is pretty cool in that the buildings and houses are built right on the edge of the mountains.
Sedona
I was really anxious to get to Sedona after hearing so many great things about it! My focus while I was there was to get in some really good mountain biking, which was a total success! Sedona is a seriously beautiful place with red rock mountains that shoot up out of the ground. I camped in Sedona for three nights and got in three great mountain bike rides. One of my favorite trails was called Fools Canyon Trail which was a down hill trail through a small canyon that was about 15 feet across at the widest part. The trail wound up and down the canyon walls as if riding a half pipe. This was one of my favorite trails I rode in Sedona. West Sedona, where I was riding offers lots of short punchy climbs and fast winding down hills. It was a blast!
After my rides I was eager to get out of the heat so I went in search of good spots to swim in Oak Creek Canyon. I was able to find a couple secluded relaxing parts along the creek to swim in. I also went to Grasshopper Point which has a few jumping cliffs. Although it was a a bit crowded, it was great to get some cold water and cliff jumping in! Sedona was such a beautiful and relaxing place. I will defintely be going back, but most likely in the winter time, or at least not in the middle of summer as it gets pretty hot there!
Flagstaff
After leaving Sedona I headed north to Flagstaff which was a cool town that sits at an elevation of 7,000 feet. Flagstaff has a ton of micro breweries, bars and cool restaurants. I stayed at the Grand Canyon International Hostel for a night while I was there. I met a few cool people that were also traveling. My hostel roommates were two cool guys from Austria. We hung out for most of the day, explored the city and grabbed a few beers at night. I also met a crazy Australian Boxer chick named Bianca (Bam Bam) Elmir, who is currently training to become a wold champ boxer! She convinced me to go to the Grand Canyon a day early to have a travel buddy. It turned out to be a great time. We totally winged the whole trip but ended up getting to do everything I wanted to do there, and we couldn't have planned it better!
On our way to Paige, AZ to see Antelope Canyon and Horseshoe Bend, we stopped at Sunset Crater Volcano just north of Flagstaff. This was a cool little stop along the way. Hiking to the top of the volcano is not allowed, but it was cool to see the huge beds of porous lava rock.
Antelope Canyon, Horseshoe Bend & the Grand Canyon
We arrived in Paige, AZ in search of Antelope Canyon. Our arrival just before noon happened to be the perfect time to see the Upper Antelope Canyon due to the position of the sun. We had a great tour guide and fun group of people. Antelope Canyon was absolutely incredible. The way the sandstone is carved away leaving these beautiful curvy and spiral crevaces was incredibly breathtaking! With heavy rains, the desert floods and the water collects and builds up outside the canyon. As the water rises, it rushes through the canyon cutting and carving its way leaving organic shapes and curves through the sandstone. As the light comes in through the top, it leaves awesome rays of light shining though. Antelope Canyon was an incredible place, and although the tour is bit pricey, I highly recommend it to anyone!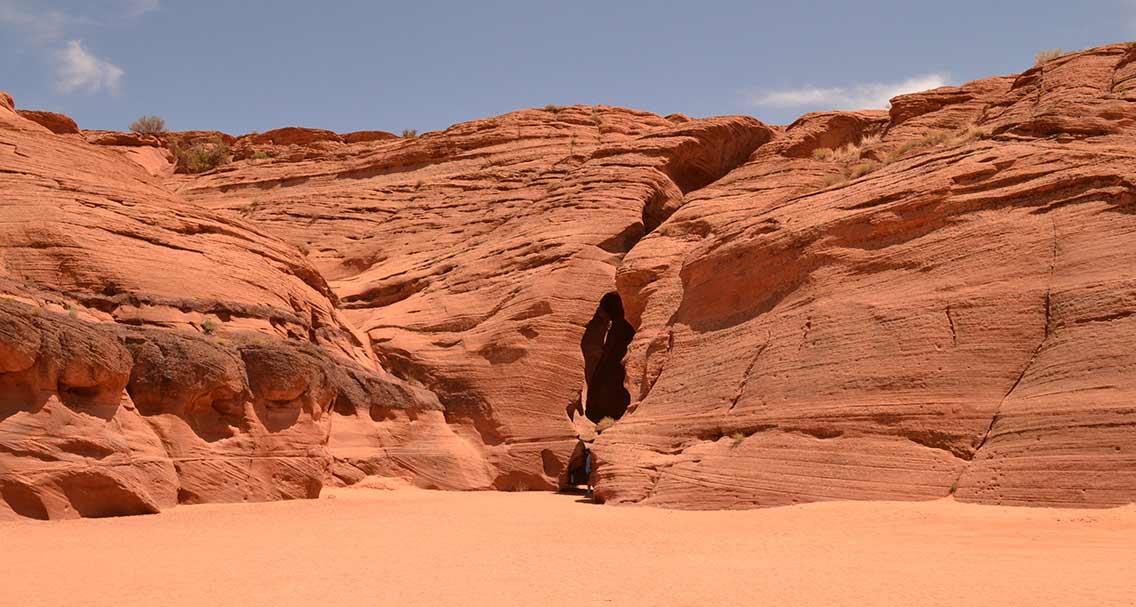 After Antelope Canyon, we headed over to Horseshoe Bend, which I was really excited to see, and it totally exceeded my expectations. Pictures don't do justice for how grand and massive it actually is. Its amazing how deep the water has cut through to carve the canyon. It's absolutely incredible and again this is definitely somewhere I highly recommend vising!
After leaving Paige, we headed down to the Grand Canyon. We did the south rim of the canyon and arrived right before sunset. As with Horseshoe Bend, pictures can never do justice for how massive the Grand Canyon actually is! After catching a glimpse before the sun went down, my new travel buddy and I, Bianca the Mountain Lion, set up camp just outside of the Grand Canyon in Kaibab National Forest. We found a great spot that had an elk skull, hooves, and some jaw bones scattered around.
We woke up and went for a hike down into the Grand Canyon. It's a 10 mile roundtrip hike dropping over 3,000 feet down into the canyon. Although it was a tough hike, it was absolutely beautiful! Bianca the Mountain Lion lived up to her nickname / spirit animal by running all the way down, and all the way back up the mountain! She is a beast! As she ran ahead, I met a couple of brothers who were also on a roadtrip around the country. They had been to alot of the places that I planned to go to on my trip. We made the trek to the top together, and were supprised when a Big Horned Sheep popped up onto the trail right in front of us! He started walking along the trail ahead of us and eventually hopped back off down the mountain. It was cool to see some wildlife in the canyon. After our intense hike, we grabbed dinner, setup camp near the same spot as the night before, and then headed out the next morning. I dropped her back off in Flagstaff and continued on my way to San Diego!