Colorado
Fresh Air and Fond Memories Served Daily
Crested Butte
I drove back to Colorado to see Crested Butte. I have heard such great things about the small mountain town, so I was excited to check it out. Crested Butte sits at 9,000 feet and is surrounded by mountains on all sides in Gunnison County. I stayed with one of my dad's good friend, Kent. Kent was kind enough to let me crash at his place, and show me around Crested Butte.
Kent took me on an awesome ride on the 401 trail. It starts off with a nice challenging climb. We had to walk and push our bikes though the mud and snow for the last mile or two. The mud was so thick that at one point Kent's tire was not even spinning from all the mud stuck to it! The views this trail has to offer are incredible. At the top of the climb you can a beautiful view of Mt. Crested Butte. We had a little break and a sandwhich, then started the fun downhill. After a few miles of fun flowy single track, we came to the river crossing. We were able to cross the river on a big beaver dam! The dam was big enough to walk on and cross the river, which was about 15 feet to the other side. The 401 trail was so much fun! It was my first time riding and hiking my bike through snow. It definitely made for a great experience and a fun ride!
Crested Butte was a super cool town that I can't wait to visit again! I had a great time meeting and hanging out with Kent; he is a super nice guy. I really appreciate all the hospitality, thanks Kent!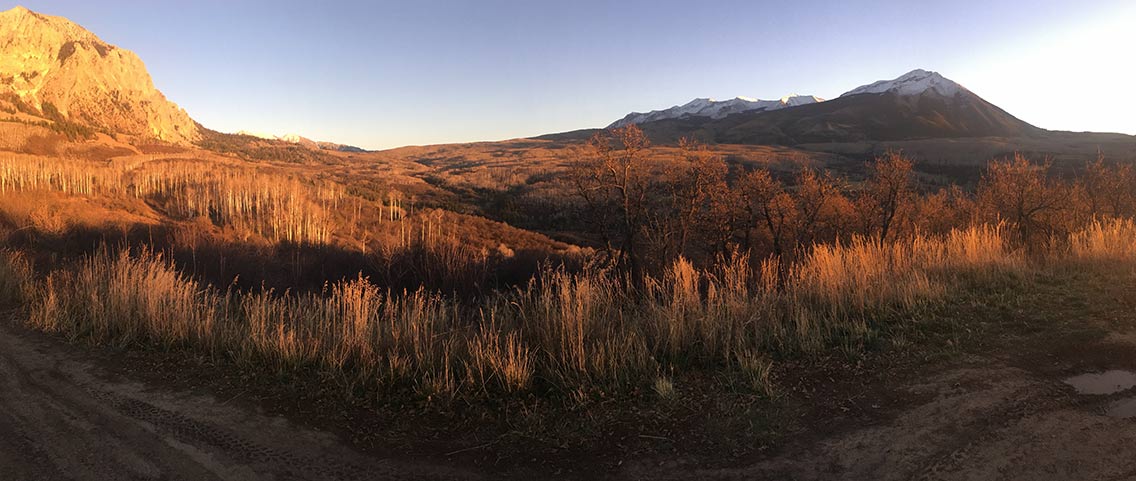 Oklahoma City, OK
Crested Butte was basically my last main destination before I started the long drive back to Florida. I drove down to Oklahoma City to see my dear family friends Steve, Ginny and Casey Bourke who I have known most of my life! Casey took me to a cool neighborhood that had some shops and restaurants. We bopped around a few shops and had a nice lunch. It had been so long since I have seen the Bourkes, and it was so great catching up with them. Thanks for having me!
Birmingham, AL
Next, I drove to Birmingham to see another great friend, Judi Olsen. Judi is my friend Jackson's mom, who I have also known my entire life. It was great seeing Judi and meeting her boyfriend, Rick. I only stayed for one night, but we had a wonderful lunch the next day at a delicious pizza place. From Birmingham I drove down to Jacksonville.
Jacksonville, FL
I hung out in Jacksonville for a couple days. I stayed with my aunt and uncle, Marie and Eric and their two little ones, Kia and Eli. It was great seeing them! I watched their dogs for a couple days while they were out of town. I also got to see some other good friends. I stayed with Zach and Halo for a night and got to hangout with with my buddy young Chuck! I also got to check out the Void Fest that was going on in Jax Beach.
Orlando, Home, Sweet Home
I made it home to Orlando on November 20th. It felt strange to be back in Florida after 5 and half months of traveling around North America. It was also pretty sad knowing that my trip had come to an end. This road trip was truly the greatest experience in my life so far! The trip was everything I hoped it would be and much, much more. I saw some incredible places and met some amazing people. I had 0 car troubles, and no speeding or parking tickets. Over the trip, I traveled in 2 different countries, spent time in 16 states, visited 16 National Parks and drove just over 21,000 miles. That averages out to, give or take 372 hours of driving.
Thank you to everyone that hosted or helped me along the way! It was so nice to have so much support from friends and family throughout my trip. I had an amazing time and will cherish the memories for the rest of my life. I also urge everyone to get out and travel when the opportunity arises. Put yourself outside of your comfort zone. Try new things and experience as much as you can. This trip really made me think a lot about my furture and how to build the lifestyle that I want to live. I am sad that my trip is over, but I am eager to start the next chapter of my life.